I spent last week traveling around the Adirondacks, and it was great!  The weather was a bit rainy and on the cool side, but a welcome change from Florida's summer heat and humidity.  I was able to show Desperate Hours to a number of potential vendors, and it received a wonderful reception.  It can now be found in a number of Adirondack book and gift stores, including Trees in Bolton Landing, and of course at the Sagamore Resort. We hope to have outlets soon on Glen Island, in Hague, Diamond Point and Hulletts Landing.
In Glens Falls, the boo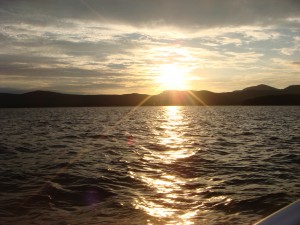 k can be purchased at The Red Fox bookstore, as well as My Dog Ate My Homework bookstore.
In Lake Placid it can be found at the Lake Placid Inn and at Bookstore Plus right on Main Street.
Desperate Hours can be found in a number of other smaller distributors as well throughout the Adirondacks.  North County Books will be distributing in the near future.
As always, you can order the book right here from my website by clicking on the "Buy Now" button.
Please look for stories about Desperate Hours in the Post-Star, the Chronicle and the Lake George Mirror in the relatively near future.  If the books are not available where you buy books–tell them to get it!