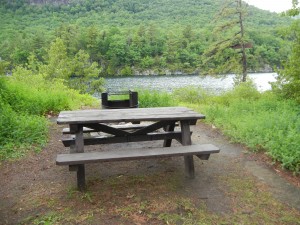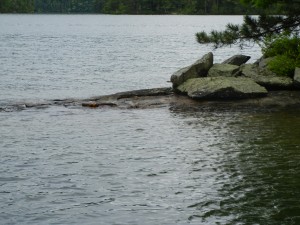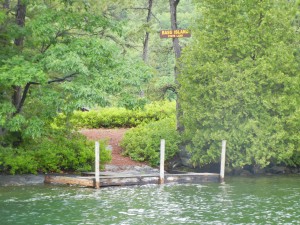 Recently, people have been asking me if Bass Island is a real place.  They are looking at maps and are having a hard time finding it.  That may be because it is so small.  Remember, it is the only state owned island available for camping that has only one camp site.  If you get a good navigational map of Lake George you will find it on the west side of the Narrows.  It is South of Hague, west of Huletts Landing, North of both Bolton Landing and  Diamond Point.
The ability to have such privacy is what attracted so many artists as well as modern day campers.  It is a peaceful refuge from a hectic world.  Pictured here are some of the locales mentioned in Desperate Hours.  If you look carefully at the rocks on the northern tip of Bass Island I think you will be able to visualize just how Heather Grant was able to wash ashore there with the cooler holding her up.  Occasionally campers move things around to suit their purposes, so the picnic table is not exactly where I last remembered it and described it in relation to the fire pit.  It cannot be seen in these photos, but the platform for the tent is up the path from the dock and then to the right.  You can clearly imagine how Heather Grant and Matt O'Malley could have walked up from the dock and been surprised by J. P. Truak confronting them from the tent.
Bass Island is a great spot on beautiful Lake George and I hope everyone will have the opportunity to spend a night there in splendid isolation!